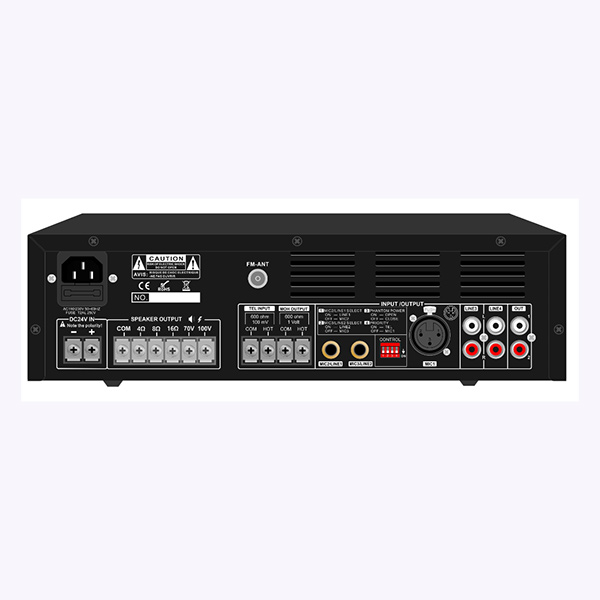 CMX EA-240A / EA 350A PA Amplifier with USB/S...
Desktop or 19" rack mount public address amplifier
PA amplifier with Mp3 player, FM radio & blue tooth
Rate power output at 60W, 120W, 240W, 350W to 500W
Speaker output of 100V or 70V & 4Ohms-8 Ohms-16 Ohms
Mp3 player with USB/SD input on front panel, IR remote control for Mp3 player, FM radio and blue tooth
LED indicators for power, clip, protect and signal
Mic1-3 and line 1-2 and telephone input. Mic1 of balanced XLR input with phantom power on rear panel. Mic2-3 microphone or line switchable unbalanced 6.3mm phone jack input. Line 1-2 input of RCA input and one RCA line output. Telephone input with VOX priority and MOH (Music on Hold).
Volume control for Mic1-3, line1-2, Mp3/FM, bass/treble and master
With short-circuit, clip, overload and high temp protection
AC 110 or 220V & 24V DC both operation system
With 19" rack mount ears
TK 25000 27900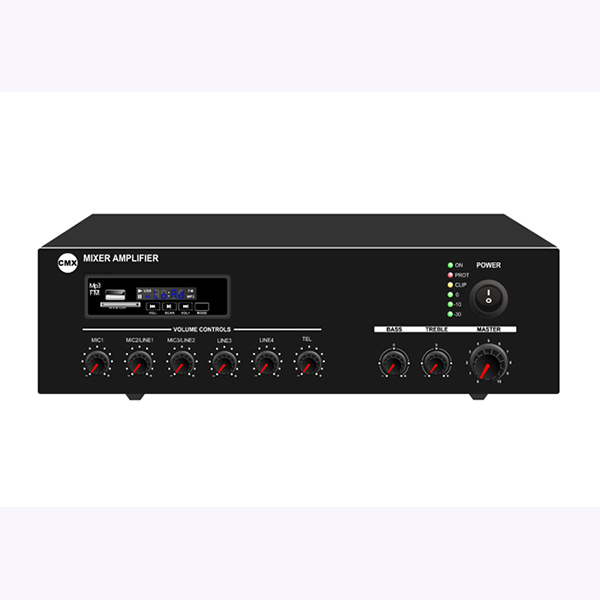 Coming Soon..
CMX EA-30 / EA-60 / EA-120 PA Amplifier with...
Compact mini size public address amplifier
Ideal for classroom sound system use
Built-in 100V/70V transformer technology
Tabletop amplifier with Mp3 player, FM radio & blue tooth
Rate power output at 30W, 60W to 120W.
Speaker output of 100V or 70V & 4Ohms-8 Ohms-16 Ohms
Mp3 player with USB/SD input on front panel, IR remote control for Mp3 player, FM radio and blue tooth
LED indicators for power, clip, protect and signal
Mic1-3 and line 1-2 and telephone input. Mic1 of balanced XLR input with phantom power on rear panel. Mic2-3 microphone or line switchable unbalanced 6.3mm phone jack input. Line 1-2 input of RCA input and one RCA line output. Telephone input with VOX priority and MOH (Music on Hold).
Volume control for Mic1-3, line1-2, Mp3/FM, bass/treble and master
With short-circuit, clip, overload and high temp protection
AC220V or 115V & 24V DC both operation system
TK 0